A semi-Gantry Crane is a gantry crane with only one side supporting leg, and the other side is supported on the horizontal structure such as workshop wall. The leg side is traveling on rail tracks laid on the ground, while the other side is traveling on the tracks on the supporting structure.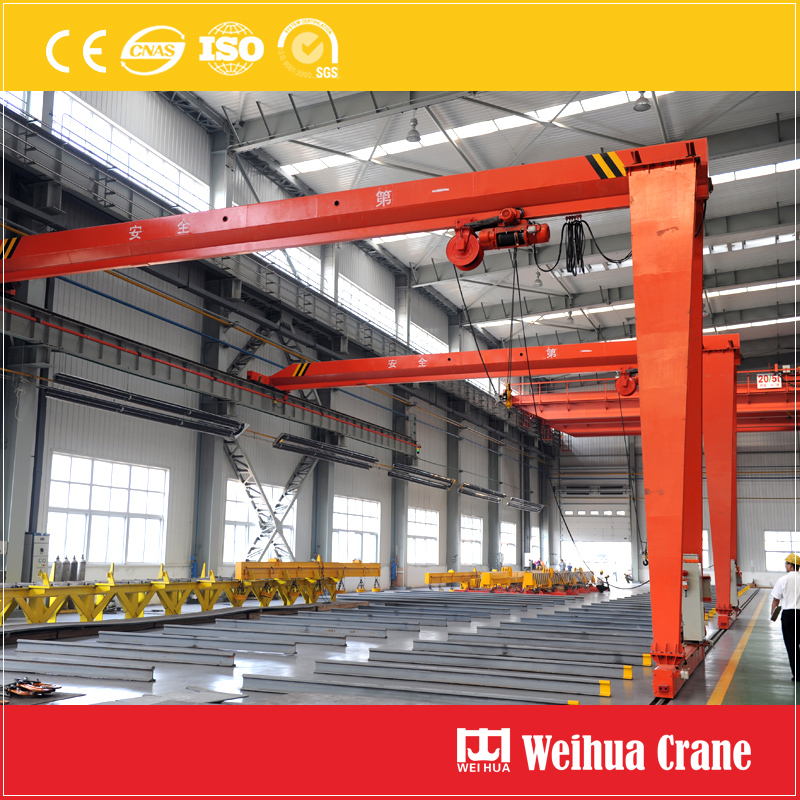 The main beam of a Semi-Gantry Crane can be a double-girder or a single girder, and the hoisting mechanism can be an wire rope Electric Hoist or a hoist/winch on a trolley. The semi-gantry crane is usually used outdoors, also indoors at a large workshop for handling working pieces, bulk mateirals, machines, steel products, scraps, containers, etc.
Capacity: 1t - 500t or custom
Span: 6m - 32m or custom
Lift height: 6m - 32m or custom
Work duty: A4, A5, A6 6m - 32m or custom
Sling device: hook, grab, magnet, disc, spreader or special device for special industry
Packing: wooden case, rain cloth, reinforced bar, etc.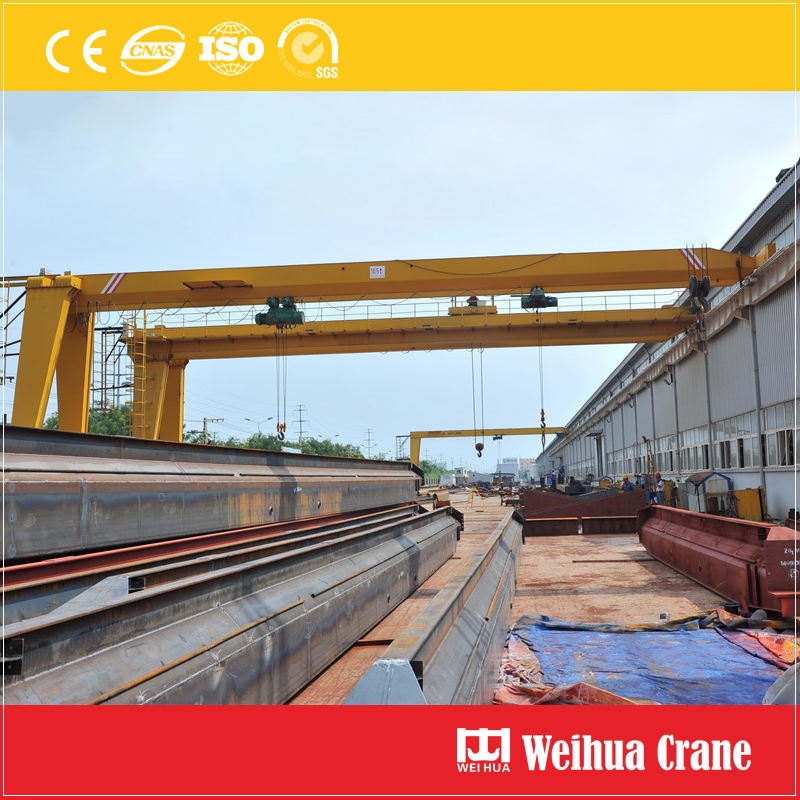 Features of Semi-Gantry Crane:
1. All steel plates are processed by pretreatment production line: Shot blasting – Painting – Paint Drying, Eliminate stress in steel plate, and increase Adhesion between paint and steel plate and anti-corrosion.
2. Adopt Germany Messer plasma CNC cutting machine to cut steel plate with high efficiency and accuracy (±1mm).
3. Rolling drum with seamless steel with pressure 1250t. Auto welding and heavy duty CNC lathe for processing.
4. Double gun gantry submerged arc welding for end beam processing.
5. Welding robot for main beam welding, MAG welding for inside seam welding, Ar+CO2 Mixed protective gas.
6. X-ray flaw detection, Ultrasonic flaw detection for welding seam.
7. High temperature quenching and quenching and tempering treatment for wheels to release internal stress.
8. Annealing furnace (1000mm*4000mm*4000mm) for annealing of trolley, rolling drum, balancing beam, wheel group and spreader.
9. Anti-sway system can be equipped according to customers' requirement.